Ultra-fast internet for everyone
Your ultra-fast internet connection at 100 Mbit/s for only €10/month
Until 31/03/2023, Eltrona offers you ultra-fast internet
at an extremely advantageous rate for the first 12 months
(24 month commitment).
DISCOVER THE OFFER
Limited Edition: Only left to
order your ultra-fast internet connection
Ultra-fast INTERNET for Everyone

Thanks to the Eltrona network,
you can also enjoy high-speed Internet access
Click on the button below to subscribe online to this exceptional offer.
Internet for all
10 €/ month
Download volume
Your internet usage is moderate. You manage your emails, read news sites, and check your social media.
With a surfing speed of 100 Mbit/s, you will meet all your needs.
100 Mbit/s
For the first 12 months (24 month commitment)
Offer valid until 31/03/2023
Installation in 6 days
Unlimited download volume
WiFi 6 technology.
Eltrona's fiber network
Installation fees 109€
Fixed line included (pay as you go).
Modem rental 6 €/month.
Eltrona ultra-fast internet connection

100 Mbp/s connection speed available to over 85 % of households

Today, the Eltrona network allows 85 % of Luxembourg households to benefit from an ultra-fast internet subscription. Access to our fiber network provides optimal connection comfort to all internet users and is able to meet all types of uses such as streaming, gaming, videoconferencing, and even home automation device management.

So that everyone can enjoy a high-quality connection, Eltrona offers an ultra-fast subscription at an unbeatable price. Until March 31, 2023, the 100 Mbit/s connection is available for 10 €/month for 12 months.
How to take advantage of the
10€/month internet offer for 12 months?
New subscription Not yet a Eltrona customer?
You have the possibility to easily create your ultra-fast internet subscription online. Click below and fill out the form to be directed to the online contract creation space.
Once the contract is validated, our customer service will contact you to arrange the installation of your line within 6 days, guaranteed!
Upgrade your subscription Are you already a customer?
Do you already have an Eltrona TV+ subscription and want to add the €10/month internet offer for 12 months?
Click below to be put in touch with our customer service and be guided to add an Eltrona ultra-fast internet connection.
Ultra-fast internet at your home too

Check your access to the Eltrona
Ultra-fast Eltrona

To find out if your home is located in an area covered by the Eltrona ultra-fast network, take our 4-step test and receive the result instantly.
NO WORKS, FULL COMFORT

Your ultra-fast connection does not require any work at your place

Opening your ultra-fast connection does not require any major construction work in your home. Our fiber network connects to your house or residence via the coaxial cable that also delivers your TV signal. And since the coaxial socket is already present in the majority of households in Luxembourg, whether it's houses or residences, our technicians don't need to carry out any particular work in your house.
Exclusive in Luxembourg

All your services at home in 6 days, guaranteed!

Eltrona is the only provider in Luxembourg which guarantees an installation appointment within 6 days from the confirmation of your contract.

The ultra-fast installation delay!

In case of a delay exceeding 6 days on our part, we offer you the amount of the remaining installation fees.
"Today Eltrona came to do a complete installation, internet, TV and telephone. Everything went well, very professional and attentive technician. Thanks"
"I have only had good experiences with Eltrona so far. Responses to emails usually arrived within 24 hours and I was offered an appointment to install internet service the next day."
Our advisors are here to assist you.

Take advantage of our support to complete your subscription.

Would you like one of our advisors to guide you through the entire process of completing your contract?

Fill in this short form and tell us what time is most convenient for you.

Our advisors will contact you at the most convenient time to help you complete your online subscription and give you the opportunity to take advantage of our exceptional offer.
THE ELTRONA BOUTIQUES NETWORK

Are you looking to subscribe in one of our stores?

If you prefer to meet one of our sales representatives to ensure that you make the right choice, please click below to find the nearest Eltrona store to you.

Visit the nearest Eltrona shop and benefit from support to complete your contract and schedule an appointment with our technical teams to finalize the installation of your ultra-fast connection.
Close popup
eligibility test Test your eligibility in
under 20 seconds
Which service do you need?
Étape 1
Step 1
Enter the 4 digits of your postal code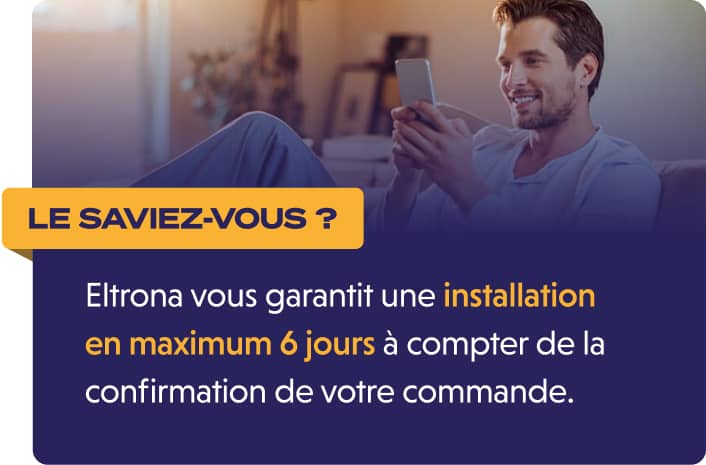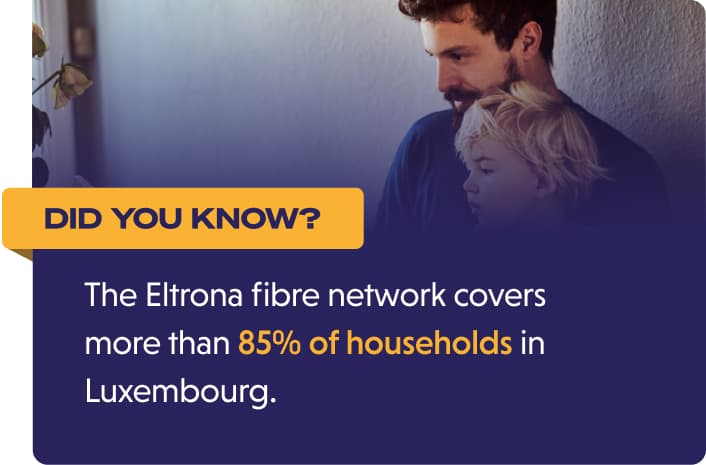 Mobile Good news!
All our mobile offers are available on the entire territory,
no matter where you live
Close popup
High-speed internet with Eltrona
for just €10/month.
Please complete the form below to validate the first steps of creating your online contract.
"*" indicates required fields